I recommend short fiction where empathy, ethics, and justice do not happily co-exist. All are free to read online.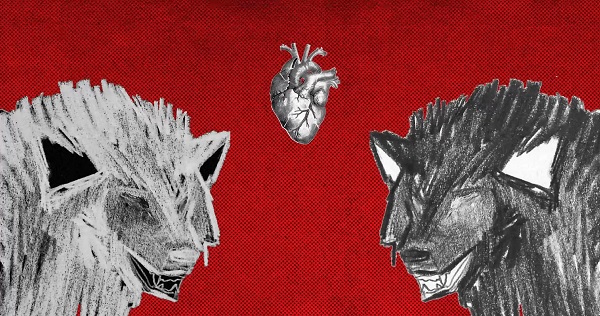 Unrelated screenshot from Garbage's Wolves M/V. Imagine the two wolves meme but hungry for flesh.
The Cold Equations by Tom Godwin
1 hr 20 m read
A stowaway on an emergency space ship presents a terrible ethical dilemma. Truly emphasizes the destructive indifference of nature and space.
Originally published in 1954 yet still timelessly resonant. Has gained 'response stories' just like Ursula K. Le Guin's The Ones Who Walk Away from Omelas.
The Empath by Raquel S. Benedict
10 minutes of how feeling other people's emotions can turn you into a hateful misanthrope. Beware the empaths online.
Morbier by Raquel S. Benedict
35 minute read
A mysterious woman claiming to be from the future becomes a food service worker. Hataraku Mao-sama can only wish he wielded half her power.
The Buddhist by Alan Rossi
30 minutes of a sick Buddhist monk in Thailand practicising ill-advised lessons in suffering.